we pioneered evidential marketing
Evidential Marketing is the data-led planning approach we developed that helps brands to understand their customers better, create stronger connections with them and track sharper results from their marketing communications.
This is how we transform your customer data into full colour communications that generate better returns from your marketing budget.
customer
understanding
We build a 360 view of your customers from all available data to deliver smarter segmentation with full colour personas, that understand consumers tastes, attitudes and motivations as well as revealing their demographics.
stronger
connections
We identify key creative messaging by audience that informs CX journeys to deliver stronger response-driven creative work that is personalised with dynamic content to individuals, not just generic creative with the same message to all.
return on
intelligence
We organise your customer data to power your integrated marketing campaigns to deliver supercharged results that are analysed via our Zebra Dashboard to track 'Test & Learn'
activity and build a route to success.
> our evidential marketing process
We've created a connected series of services & premium tools that together can identify the profile of your audiences, understand what will drive their interactions with your brand and optimise the right mix of direct marketing channels to deliver you the best return on investment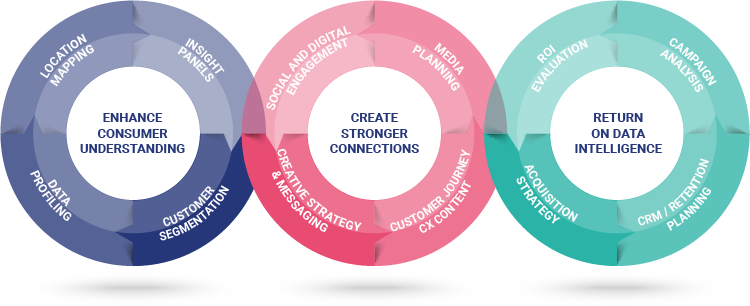 > our evidential marketing services
customer
targeting
Customer Segmentation
RFV analysis
Data Profiling
Data Mapping
Online Surveys
List Planning & Purchase
campaign
delivery
Direct Mail
Door Drops
3rd Party Inserts
Customer Journey Planning
Acquisition
Retention
Email Marketing
eCRM
Print Management
response
tracking
'Live' Campaign Response Dashboards
Channel Attribution
CPA Tracking
'Test & Learn' Attribution
> direct mail
With lockdown increasing the 'Importance of home', we've been delivering ROIs from direct mail that now rival digital & social channels. This is because offline as a channel offers significantly longer dwell times for consumers to consider offers and in-home mailings have instant impact with less competing communications through the letterbox (unlike our Inboxes & social feeds)
> why is direct mail now so effective?
96% of mailings are opened and read according to the Royal Mail & JICMail
Mailings remain in our homes on tables for 8 to 9 days
On average they are looked at between 4 & 5 times
1-in -5 of us pass each mailing on to our friends & family
5% of consumers are prompted to access their accounts, especially lapsed customers!
7% are prompted to make a purchase
Direct Mail can utilise QR codes or unique URLs to move customers from offline channels to online
With over 20 years of experience of running direct mail campaigns, we've worked with many brands to help them reap the rewards from integrating 'offline' and 'digital' channels to deliver better CPA's and ROIs.